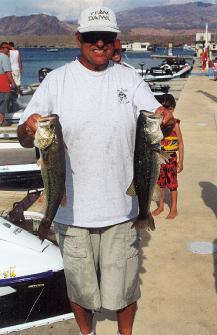 The Las Vegas Bass Club's Non boater Angler of the Year is Sam Schiers. Sam finished the year with 289 points and 48.47 pounds.
Sam, age 51, is a receiver at the Excalibur Hotel and Casino on the Las Vegas Strip. He and his wife of 17 years, Lisa, have three daughters Amanda, Katherine and Samantha.
A Las Vegas native, Sam started fishing when his dad first started taking him at age 3. In 1994 while at a seminar before the Corporate Challenge, a local annual "challenge" where Las Vegas businesses compete against each other in a variety of activities including fishing, he was approached by a member of the Las Vegas Bass Club and told he should go to a meeting and check out the club. He fished his first tournament that May and has been an active participant ever since. Sam is also the club Vice President and tournament director for the 2001/2002 season.
Sam, who's favorite lake is Lake Mead has been a fan of chunkin and windin crank baits but lately has had more luck throwing soft plastics. He claims the highlight of his fishin career so far is "Catching a 7.12 pound bass in a tournament". (See the picture of this fish on the Photo Album page) His next big goal is to buy a boat and compete on the boater side of the club. He also has some advise for folks looking to get into tournament bass fishing. " Join a local club and gather knowledge about the sport, you can learn something every time you go out." And his thoughts on winning Angler of the Year? "To receive the Angler of the Year award you must fish in every tournament, have a good draw most of the time and most of all GET LUCKY!"
Sam would also like to recognize club sponsor Mike Roser Lures. "Go to the shop , talk to him or anyone in there about bass fishing and you will know why."
The members of the Las Vegas Bass club would like to congratulate Sam on a great season!! Good Job there Bubba!!